Avengers Endgame Quantum Realm Hoodie
Compare
Description
Quantum Realm Avengers Endgame Hoodie for Sale
From the studios of Marvel. After the successful launch of the white uniform, we bring you the Avengers Endgame Quantum Realm Hoodie.
Product Specifications:
Material: Fleece
Color: Red, White, and Black
Hood With Drawstrings
Front Zip Closure
Rib-Knit Cuffs
This is made from the softest of Cotton Fleece Fabric material. This specific Avengers Endgame Quantum Realm Hoodie comes in a mix of three different colors that is red, black, and white. The front of the hood is mixed with red and white at the collar and black being the body, while the back of the hoodie has a red Quantum Realm Hoodie, and the whole body being black. The Avengers Endgame Hoodie attached comes with adjustable drawstrings. The front of the hoodie has zipper styled closure. The sleeves are full length and have rib-knit cuffs. There is a logo attached to the chest Avengers Endgame Hoodie and one of the sleeves.
Our Happy Customer Gallery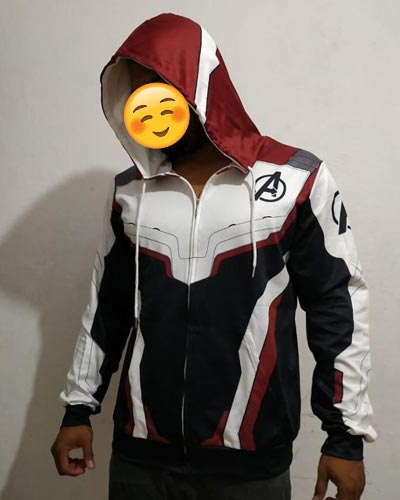 The Avengers Endgame Quantum Realm Hoodie is made with 100% high quality nylon material.
Extremely durable and high density. It combines the toughness and the natural softness for comfort.
The fabric of The Avengers Endgame Quantum Realm Hoodie has a soft touch and deep shade with a beautiful gleam.
Adjustable drawstrings, two front pockets and also  the zipper styled closure make this Avengers Quantum realm hoodie an excellent product.
You can find attached the Avengers logo on the chest and also on the sleeve of this Endgame Hoodie.
We are sorry but no PYM or nanotech particles included in the Avengers Endgame Hoodie.
A must have for all the Marvel Avengers Endgame fan!
Grab yours from the original Marvel Official Shop!
Avengers Endgame Zip Up Hoodie Quantum Realm Suit. Outer shell: 100% nylon, heavy nylon twill. It is high density and extremely durable.
Additional information
| | |
| --- | --- |
| Size | X-Small, Small, Medium, Large, X-Large, XX-Large, 3X-Large |